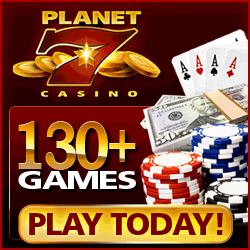 The Top Slots to Play
Far more important than how you play a slot machine is what slot machine you play. Casinos acquire leased or purchased slot machines from manufacturers that include with them a payout percentage range (lowest to highest). It is important to remember that behind the flashing lights, spaceships and dancing chickens, all slot machines are basically the same. The only differences are the payout percentages and bonus games. Here is a list of some of the top payout machines.
Winning Slot Machine #1
Area 51 – 97-90%
Space out in this high payout game with comets, flying saucers, rockets and solar systems.
Winning Slot Machine #2
Winning for Dummies – 98-88%
This machine is based on the For Dummies self-help books and features multipliers of 2X, 5X and 20X on the fourth reel, and instant bonus awards of 10 or 100 coins. There is also a respin symbol on the fourth reel giving one to five free spins when it lands with a winning combination.
Winning Slot Machine #3
Chickendales – 98-88%
Sometimes you just feel like watching flabby chickens dancing in G-strings. Well, now you can do it while you play the slots. In this slot game, an egg symbol appearing on the second and fourth reels is wild. One symbol in a winning combination doubles the jackpot and two eggs multiply the jackpot four times. And if you're lucky, you'll get three or more Chickendales symbols, which will set off a Chickendales Competition where your beautiful bountiful birds will dazzle you on a spot lit stage.
Winning Slot Machine #4
I.C. Money – 98-88%
If you manage to entice the polar bear and his family into your payline in this high payout machine, you will be invited to pick an ice crystal for extra money. I.C. Cash, a similar slot game, has the same top payout.
Winning Slot Machine #5
Austin Powers – 98-85%
Check out the International Man of Mysteries and his four swinging bonus rounds. One delightful bonus hits you with 17 headshots of Mr. Powers mixed in among the reel symbols. If you match enough symbols in a row, you get the pleasure of uncovering the hiding Fat Bastard. Your multiplier number can get as high as 40X.
Winning Slot Machine #6
Enchanted Unicorn – 98-85%
Magical plants, a princess and a damsel in distress may grace you with a big payout in this enchanting slot game. During the main game, you are paid if a unicorn appears on one reel.
Winning Slot Machine #7
Fortune Cookie – 98-85%
Based on none other than a Chinese restaurant, this slot game attempts to keep you entertained with MSG and No MSG signs, tea, carryout boxes, bowls of rice and a comedian by the name of Mr. Lucky. Fortune cookies qualify you for the bonus round.
Winning Slot Machine #8
Elephant King – 98-85%
This nine-line, five-reel slot game is a popular one, and can be found in many casinos.
Winning Slot Machine #9
Double Diamond 2000 – 98-85%
Just like the old game, but with a new twist. Wild symbols multiply into more money, there are more paylines, and a Double Diamond wild doubles the jackpot. This classic is found in most casinos.
Winning Slot Machine #10
Carnival of Mystery – MultiWay – 98-85%
You can purchase additional reel positions in this slot game and the wins are paid as scatter jackpots. As your wages increases, more spots are available for wining combinations. With a maximum bet, you're looking at a total of 243 possible ways to win on each spin.
Winning Slot Machine #11
Pool Ball Frenzy – 97-88%
This slot game is based on a billiards theme. Wins on the first three reels are multiplied anywhere from two to 10 times when a bonus symbol appears on the fourth reel.
Winning Slot Machine #12
Asian Princess – 97-88%
This video slot also uses the format in which wagers activate reels instead of paylines. It features an extra row of symbols to crank up the hit frequency, although you won't see the extra row until you ante up.
Winning Slot Machine #13
Keep Your Hat On – 97-87%
This video slot machine will certainly keep the ladies coming back for more. When you spin three, four or five women, a clothed man will appear. By picking boxes, you will aim to remove all of this fellow's clothing, and not just for the show – if the declothing is successful, the total bonus can be multiplied two or three times.
Winning Slot Machine #14
Boot Scootin' – 97-87%
This western style slot game features three wild symbols: two different scootin' boots and a single-boot. Your credits double if two boots appear along with a musical note to make for a potentially profitable boot scootin' boogie.